Kids Classes
Discipline. Respect. Responsibility.
Challenge. Hardwork. Strong Character.

These are just a few of things your child will learn
when you enroll in our Kids Boxing classes.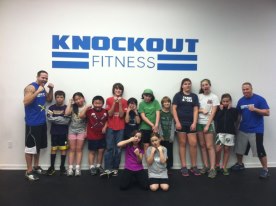 Our program offers several other benefits including bully prevention. We give kids the tools they need to grow stronger and keep their body in shape as they age. We also teach how to avoid conflicts and stay away from danger. Your child will have the an absolute amazing time learning basic boxing fundamentals and getting in shape. They will also take home lessons of showing respect and patience. Good grades and good behavior will be strongly encouraged to your child by our staff.
Meet Our Kids Program Instructors
Courtney Feldheim: A rising star amateur boxer and talented boxing trainer. By being a teacher at Bryn Mawr School, Courtney is very experienced in dealing with children of all ages.
Jason Nissley: Former Golden Glove boxer and certified personal trainer. Jason is one of the leading trainers and coaches at Virginia Soccer Association. Jason has coached all age groups and had done college prep for children in Virginia. He also ran the strength and conditioning program for a nationally recognized college prep program.
"My child recently enrolled in a 6 week program at Knockout Fitness and I must say he loved it. Every week he asked if it was "time for boxing yet". The trainers at Knockout Fitness were very courteous and I felt safe about leaving my child. I was impressed at how quickly my child learned boxing. I can honestly say that I feel it improved his over all behavior. One other small bonus was that on nights that he went to boxing, going to bed early was almost a certainty. My child is now hooked on boxing at Knockout Fitness and as a parent I couldn't be more happy with my child's new hobby. I strongly recommend Knockout Fitness to anyone looking to enroll their child in a boxing or exercise program!"
-Donna Martin