Knockout Fitness will be offering a 5 week fitness boot camp starting August 19th and ending September 20th. This will be our third round of boot camp this summer and the previous two were amazing. Over 25 people participated in our first boot camp and about 15 in the second round. All ages, sizes, and experience levels came out to improve their fitness and health and they all were very satisfied. Many clients not only increased their endurance and stamina  but saw a substantial drop in weight and body fat percentage.
"I am so glad that I chose to participate in Knockout Fitness' first boot camp program. The workouts were fun, challenging, and different each day and working out in beautiful Federal Hill Park was an added bonus. Getting my workout in at 6 am influenced me to make healthy decisions all day long. I have to give so much credit to Knockout Fitness for my 9 lb weight loss. The workouts pushed me much harder than I ever would have done on my own. I can't wait to start the next boot camp session and see more results, and get even closer to reaching my fitness goals."        – Mary Lewis
Sessions will be held on Mondays, Wednesdays, and Fridays at 6 am. Training sessions usually start at Knockout Fitness (1108 Light St.) and end up at the historic Federal Hill Park. While enjoying an amazing view, workouts include agility work, running hills, calisthenics, relays, circuit training, resistance training, running in the sand, and many other innovative workouts to keep your body guessing. Workouts last an hour and we have clean showers available for use.
"After two 6 week program of boot camp completed I was impressed that every morning I came out we did something completely different. And although it was very challenging I really enjoyed myself. Cant wait to start the next round of boot camp with Knockout Fitness."         – Halye Smith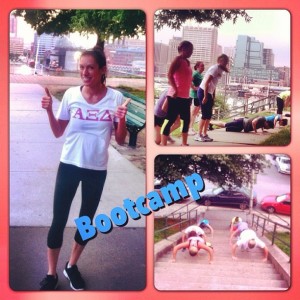 Since this is our final round of boot camp this summer we dropped the price all the way down to $195! You simply cant get quality training at this price anywhere. For $195 you can expect a very challenging 5 weeks and to experience some of the following results:
– Drop in weight
– Lower Body Fat %
– Increase in stamina and endurance
– Gain lean muscle
– Confidence boost
– A more toned core
When: August 19th through September 20th (Monday, Wednesday, and Friday at 6 am)
Where: Knockout Fitness (1108 Light St. Baltimore, Md 21230)
Cost: $195 per person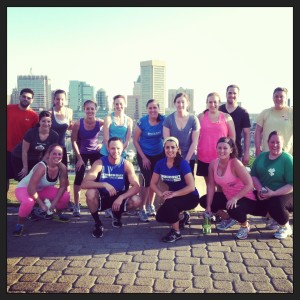 Call now to register and reserve your spot in this incredible opportunity 443-703-9260!