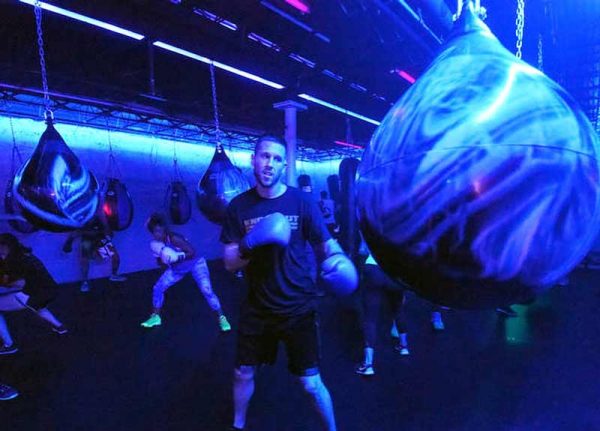 By The Baltimore Sun
October 4th, 2017
The men and women barreled down the steps and into the darkened room.
They were ready to fight.
Trainer Chris Nissley of Knockout Fitness in Federal Hill cued up the song "2 phones" by Kevin Gates. As the hip-hop beat pumped from the speakers, the people in the class began their attack. They pounded boxing bags with a fury of upper cuts, jabs, hooks and other punches. Neon-colored laser and LED lights bounced off the walls, floors and ceilings as they worked up a sweat.
Nissley and brother Jason, both trainers and co-founders of Knockout Fitness, have reinvented the boxing workout at their studio. They have created what they hope is a unique atmosphere that will rev people up and inspire them to work out harder in the class, which they call fight club.
"We wanted to do something authentic," said Chris Nissley. "We said, 'Let's make as cool and crazy of an atmosphere as we can.' "
Ashley Colvin, a 29-year-old Federal Hill resident, said she likes the mood created in the class. Colvin, who works for the federal government, worked out at traditional gyms before joining Knockout Fitness a year ago. Her fitness regimen used to consist mostly of weightlifting, running and cardio machines, such as the treadmill. Her workouts now are more hard-core, she said.